*Freeguild General on Griffon (Online Exclusive) 10% Off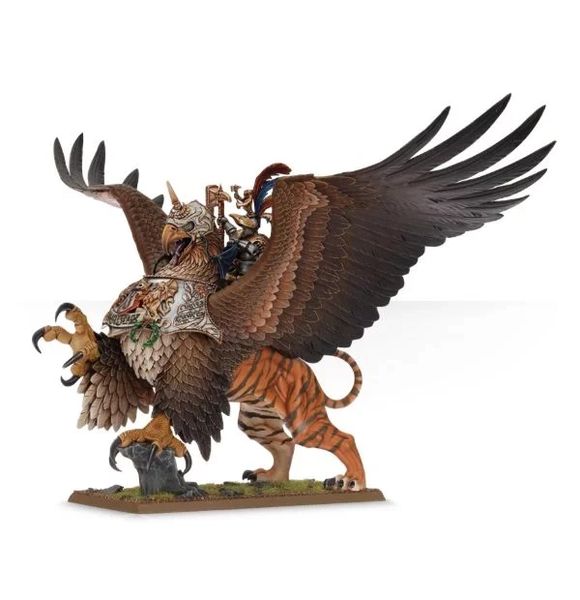 *Freeguild General on Griffon (Online Exclusive) 10% Off
Freeguild General on Griffon (Online Exclusive) 10% Off
When the Freeguilds march to war a Freeguild General himself might accompany them. Atop his griffon mount he is often joined by his finest soldiers, each one riding a demigryph, and together they eagerly exact their revenge upon the servants of the Dark Gods.
A Griffon is an impressive sight and terrible to behold in battle. Freeguild Generals prize these noble beasts above all other mounts, riding them into the depths of battle and inspiring their men to victory.
This multi-part plastic kit is an ideal model to lead your forces into battle. The Griffon itself is 6" high with a mighty 9" wingspan when assembled and can be further customized by adding either the single unarmoured head or the pair of heads. It also includes an elaborate barding plate, mounted across the Griffon's broad chest. The Freeguild General comes with multiple head variants and the option of arming him with either a Freeguild lance, Sigmarite Greathammer or a Sigmarite Runesword. He sits on top of an ornamental saddle on the Griffon's back.
The kit contains 74 components in total, comes with a 50x100mm monster base and includes a scenic rock for the Griffon to stand on. The kit can also be used to assemble a Battlemage on Griffon and contains three riders, three Griffon head variants and three crests for the armoured chest plate.
This miniature is supplied unpainted and requires assembly - we recommend using Citadel Plastic Glue and Citadel Paints. 
Reviews