*Space Wolves: Bjorn the Fell-Handed (15% Off)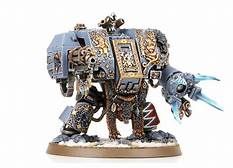 *Space Wolves: Bjorn the Fell-Handed (15% Off)
Interred in a custom-built Dreadnought, Bjorn is a legendary figure amongst the Space Wolves, for he fought in the Horus Heresy amongst the retinue of Leman Russ himself. Bjorn the Fell-Handed is the oldest warrior in the Imperium, serving first as a warrior, then as Wolf Lord, and finally a Dreadnought, to this day he is the spiritual and moral compass for the entire Chapter.

This multi-part plastic kit makes one Bjorn the Fell-Handed armed with a customised lighting claw known as Trueclaw and an assault cannon. It also comes with a selection of weaponry, including a Helfrost cannon.
This kit can also be assembled as a Space Wolves Venerable Dreadnought or Murderfang.  
Reviews