*Fyreslayers: Vulkite Berzerkers (15% Off)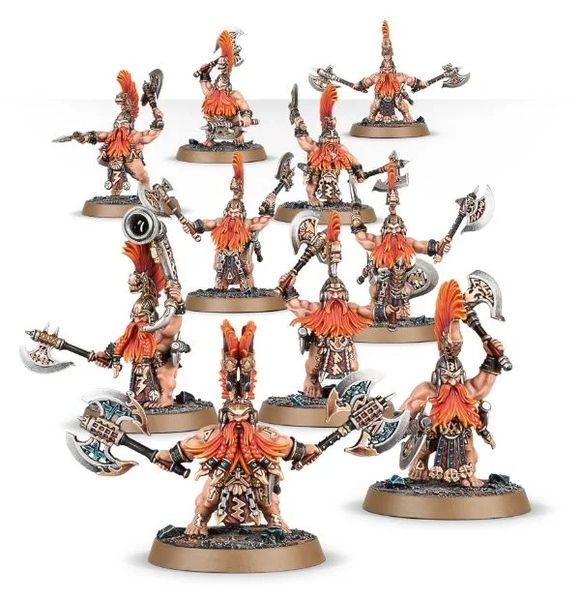 *Fyreslayers: Vulkite Berzerkers (15% Off)
Known across the Realms for their prowess in battle and absolute lack of fear when faced with enemies that tower over their stout forms, Vulkite Berzerkers are rightly feared by their enemies. Born from a foundation of ancient tradition that stubbornly clings to martial pride, these dauntless warriors make up the bulk of a lodge's force when marching to war. Roaring promises of violent demise at the enemy, these fighters live up to their name - a blaze of axes and ur-gold runes, legends are told of Vulkite Berzerkers ignoring wounds that would fell any lesser Fyreslayer, refusing to accept death in front of their kin. Those who carry the Horn of Grimnir are said to wield the booming voice of Grimnir himself - as the horn sounds its sonorous call, the ur-gold runes hammered into every Fyreslayer on the battlefield glow ever brighter, as the spirit of their god stirs within...

This multi-part plastic kit contains all the components necessary to assemble 10 Vulkite Berzerkers, determined and strong warriors of the Fyreslayers. They come with an impressive selection of weaponry - fyresteel handaxes, war-picks and bladed slingshields - and feature ur-gold runes hammered into their skin. One model can be assembled carrying a Horn of Grimnir, and one warrior can be assembled as a Karl, with ornate fyresteel handaxe or war-pick and his own head options. The kit comes with a whole load of extra ornate runes and keys with which to decorate your Fyreslayers.
This kit contains seventy-four components in total, and includes 10 Citadel 32mm Round bases.
Reviews