Victory at Sea - HMS Warspite 20% off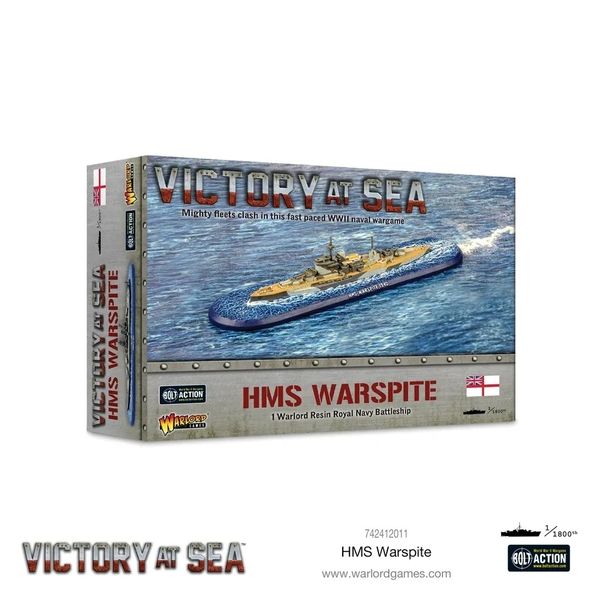 Victory at Sea - HMS Warspite 20% off
HMS Warspite was a Queen Elizabeth-class battleship of the Royal Navy. Built during the early 1910s, she served in the First World War, including at the Battle of Jutland. Modernized in the 1930s, she went on to serve in the Second World War.
Warspite was part of the Norwegian campaign of 1940 and subsequently was transferred to the Mediterranean, squaring off in fleet actions against the Italian Regia Marina. During the Battle of Crete in mid-1941 she suffered damage from enemy German aircraft and spent 6 months under repair in the US. These repairs were completed shortly after US entry into the war, and she set sail across the Pacific to join the Eastern Fleet in the Indian Ocean in early 1942.
She returned home in 1943 to provide gunfire support as part of Force H in the Italian campaign. She again suffered damage, this time at the hand of radio-controlled glider bombs, during the landings at Salerno. She spent almost another year under repair as a result.
Before her repairs were fully completed, she was back at sea, providing fire support the next year, supporting the Normandy landings and on Walcheren Island in 1944. These actions earned her the recognition of being the ship with the most battle honours in the history of the Royal Navy, and also accorded her the affectionate nickname, the "Grand Old Lady".
At the conclusion of the war, she was decommissioned and ran aground undertow in 1947. She has broken up shortly after.
Please Note:
Miniatures are supplied unpainted and some assembly will be required.
Reviews