*Ultramarines Honour Guard 10% Off (Online Exclusive)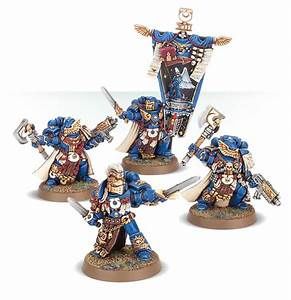 *Ultramarines Honour Guard 10% Off (Online Exclusive)
Ultramarines Honour Guard

The Honour Guard of the Ultramarines are drawn from the Chapter's elite, their very presence an inspiration to their battle-brothers. This set contains a selection of elite choices for your Ultramarines army, featuring ornate, Chapter-specific detail to tie them to your army.

A pair of Honour Guard with power axes are perfect for guarding your Characters thanks to their ability to intercept wounds, while the banner-wielding Chapter Ancient inspires nearby soldiers to fight harder. The Chapter Champion, meanwhile, this a skilled warrior who excels at slaying enemy Characters in close combat.

This set contains 14 resin and plastic components plus 4 x 32mm round bases with which to build two Honour Guard, a Chapter Ancient and a Chapter Champion.
Reviews