*Space Wolves Blood Claws (Online Exclusive) 10% Off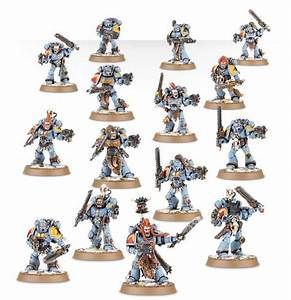 *Space Wolves Blood Claws (Online Exclusive) 10% Off
The Blood Claws are the youngest and most inexperienced of all the Space Wolves, and most eager to prove themselves in battle. They are savage and aggressive without exception and will plunge headlong into battle against maniacs and monsters alike, for they are young enough to still believe in their own invincibility.
Each Blood Claw miniature is furnished with an abundance of fur, skulls, wolf tail talismans, knives and icons that give them a feral appearance. Within this kit are a selection of weapon options including: plasma pistols, chainswords and boltguns. It also includes: power swords, thunder hammers and storm shields, wolf claws, plasma guns, storm bolters and power fists.
There are five different leg variations, six torso variants, five backpack variants and 28 variant heads, meaning there are an incredible number of options for personalising your pack.
This multi-part plastic kit contains 327 components with which to build 15 Blood Claws miniatures, and includes 15 Citadel 32mm Round bases.
Reviews