Idoneth Deepkin: Lotann, Warden of the Soul Ledgers (10% Off) (Online Exclusive)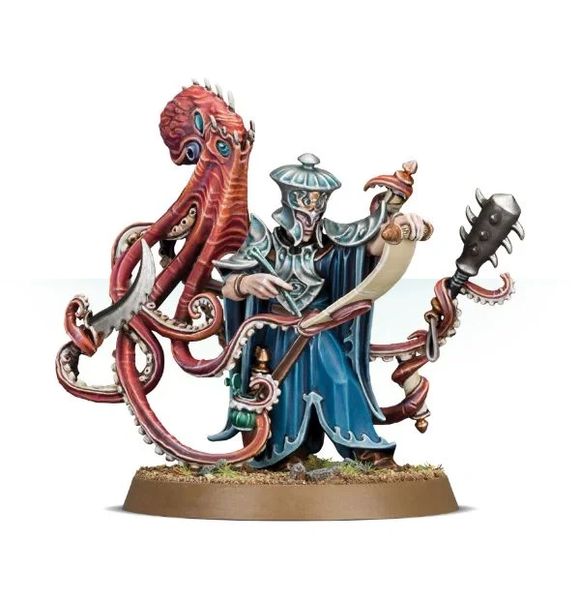 Idoneth Deepkin: Lotann, Warden of the Soul Ledgers (10% Off) (Online Exclusive)
Gifted with the spirit-sight and keen analytical minds, the Soul Wardens keep a tally of interred souls, tending to them and calculating how many are needed for certain tasks. Ordinarily they do not accompany the phalanxes to war, but there is one exception – Lotann of the Ionrach. Such is Lotann's obsessive commitment to his duty, his willpower stains the ethersea, a presence that inspires the Idoneth to fight with heightened zeal. His highly intelligent multi-limbed Ochtar familiar aids him in his task of scribing his catalogue of souls, by keeping aggressors at bay with a serrated blade and spiked cudgel.


This multi-part plastic kit contains the components necessary to assemble Lotann, Warden of the Soul Ledgers. Hardly concerned with the violence and melee going on all around him, Lotann is utterly absorbed in the Catalogue of Souls – an enormous parchment scroll clutched in his left hand, on which he tallies the Idoneth's captured souls. He uses a bone quill to do so – on occasion, he'll use this to stab an encroaching enemy, but for the most part his defense is left to his Ochtar familiar. This is a large, octopus-like creature which looms over Lotann's right shoulder, brandishing a cudgel, a serrated blade and even thoughtfully carrying a spare scroll, should the tally of souls grow too large to count.

Lotan, Warden of the Soul Ledgers comes as 8 components, and is supplied with a Citadel 40mm Round base.
Reviews