*Judgements of Khorne (10% Off) (Online Exclusive)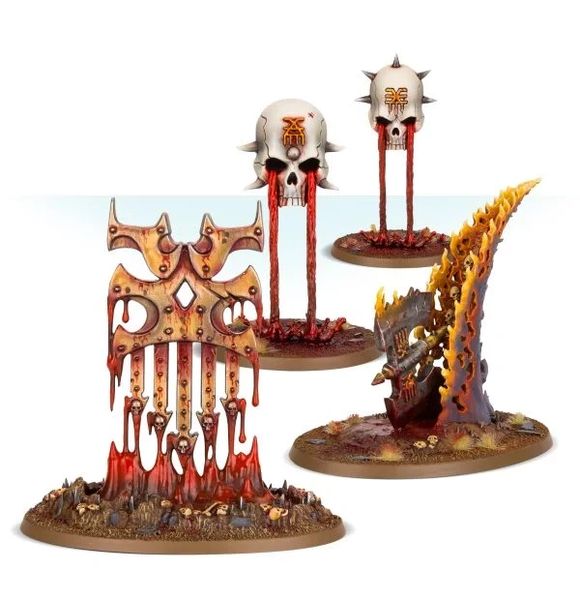 *Judgements of Khorne (10% Off) (Online Exclusive)
When the necroquake shook the foundations of the Mortal Realms, the barriers between the aether and the Mortal Realms were weakened. For practitioners of magic, this meant more eldritch powers were within their reach – for the followers of Khorne, who despise the arcane, it meant they could more easily draw manifestations of the Blood God's judgements from the Realm of Chaos and send them crashing down upon their enemies.


Judgements of Khorne are the Blood God's answer to endless spells. Summoned into battle by Khorne Priests like the Slaughterpriest, each makes a devastating impact on the battlefield. In this set, you'll find all the Judgements of Khorne, including:

- The Hexgorger Skulls, manifestations of Khorne's will that mess with enemy casters and rob them of spells

- The Bleeding Icon, a symbol of Khorne that can crush foes and make failed battleshock tests even more dangerous

- The Wrath-axe, a supernatural blade that cleaves through enemy units

Each of these Judgements of Khorne is a striking, eye-catching model that'll stand out superbly on the tabletop, with unusual elements like waves of energy and pools of blood that'll be a treat to paint.

This kit is supplied in 14 plastic components and is supplied with 2 x 60mm round bases and 2 x 105mm oval bases.
Reviews