*Tranceweaver/Viceleader, Herald of Slaanesh (Online Exclusive) 10% Off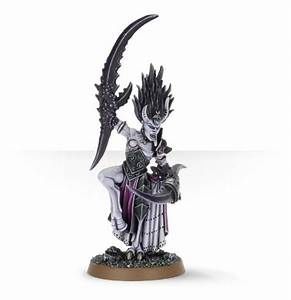 *Tranceweaver/Viceleader, Herald of Slaanesh (Online Exclusive) 10% Off
Herald of Slaanesh (Online Exclusive) 10% Off

The more privileged a Daemonette is – the more she pleases the Dark Prince – the closer to his throne she is allowed to approach. The most favoured of his Daemonettes are the handmaidens – fast and most deadly of his courtesans, and known also as the Heralds of Slaanesh.
The Herald of Slaanesh is a fearsome addition to a collection of daemonic miniatures. Her long legs, one of which is raised provocatively, are of a human form until they blend down to a devilish hoof. Her arms, too, are not entirely human, as they transform into huge, curved chitinous weapons. Her hair is almost vertical, revealing clearly her snarling expression and razor-sharp teeth. As well as a flowing robe she wears armour across her shoulder and torso, which possesses elaborate decorative swirls and the occasional gemstone detail.
This finely detailed resin kit contains 4 components with which to make a Herald of Slaanesh.
This kit comes supplied unpainted and requires assembly - we recommend using Citadel Super Glue and Citadel Paints.
You can use this miniature for collections of both Warhammer and Warhammer 40,000 miniatures.
Reviews