*Fungoid Cave-Shaman Snazzgar Stinkmullett (10% Off) (Online Exclusive)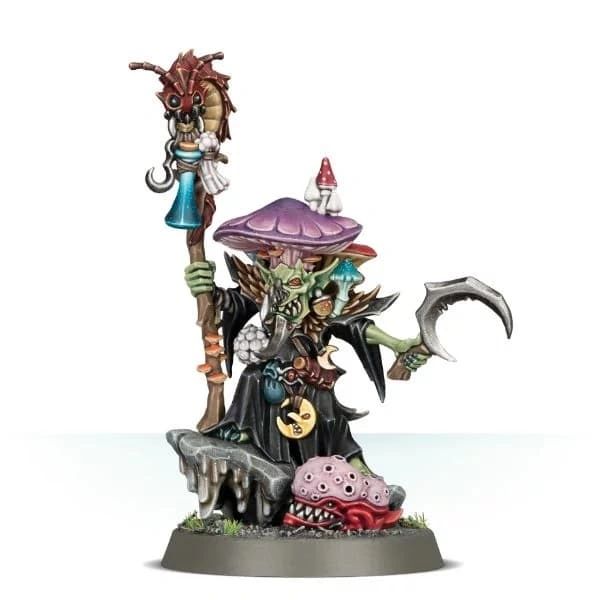 *Fungoid Cave-Shaman Snazzgar Stinkmullett (10% Off) (Online Exclusive)
The mushroom-gobbling grot maniacs known as Cave-Shamans are not right in the head. To these greenskinned nutters, to get lost in a brain-mangling vision is to grow closer to the side of Gorkamorka that epitomises cunning and trickiness over brute strength, which is the side that all grots like the best. Whether these hallucinogenic visions of carnage are gifted by Gorkamorka, or simply the side effects of ingesting deffcap mushrooms, doesn't matter to his followers – so long as they lead to a good scrap. The Fungoid Cave-Shamans were the first to lead the hordes of Destruction into Shyish, the realm of Death, in search of the Waaagh! to end all Waaaghs!.

This multi-part plastic kit contains the components to assemble Snazzgar Stinkmullett, a Fungoid Cave-Shaman. He's an… interesting figure, clearly quite mad, and has enhanced his already pointy features to more closely resemble the Bad Moon with some impressive metal prosthetics attached to his nose and jaw. You may think that he's wearing a mushroom-shaped hat – the truth is much worse. He's consumed so much hallucinogenic fungus that spores have burst through his brain, and an enormous fungus is growing from the top of his head. Further spores and mushrooms are dotted about his cloak and staff – which bears a caterpillar familiar – and he carries bags of potions and deffcaps on his belt. He's armed with a moon-sickle, and on his base you'll find an accompanying spore squig, which belches clouds of thick spores to hide Snazzgar from the foe. Topping off the whole ensemble is the spine of some unknown creature, which runs down the back of the cloak to trail behind Snazzgar like some dismal trophy.

This model comes as 7 components, and is supplied with a Citadel 32mm Round base.
Reviews