*Idoneth Deepkin: Akhelian Ishlaen Guard (15% Off)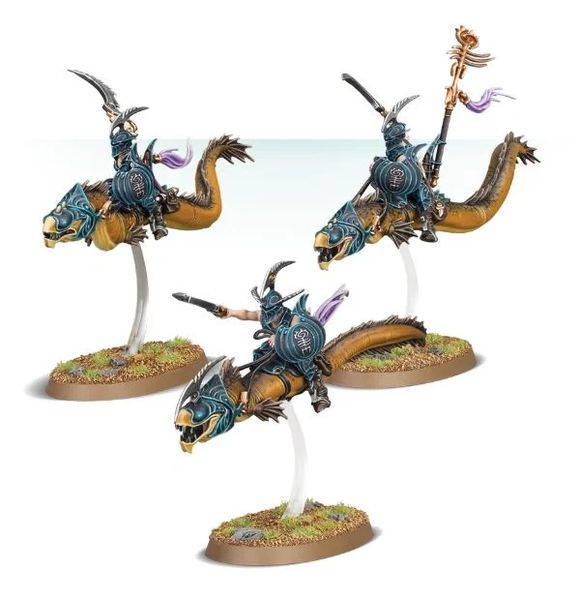 *Idoneth Deepkin: Akhelian Ishlaen Guard (15% Off)
No troops exemplify the Idoneth Deepkin way of life more than the Akhelian Guard. Mounted atop Fangmora Eels, they fight in a loose formation ideal for rapid assaults and sudden retreats, typifying the hit-and-run style of war common amongst the aelves of the depths. Ishlaen Guard wield helsabres, and harness the bioelectricity of the Fangmoras into their galv-shields to turn aside enemy blows with their arcing energy fields. Thus the Ishlaen are better able to shrug off missile fire, and have much greater staying power in prolonged combat than their spear-armed kin, their Fangmora Eels lashing out with their tails and ripping apart the foe with their wicked bites.


This multi-part plastic kit contains the components necessary to assemble 3 Ishlaen Guard. Each is mounted on a Fangmora Eel, a lithe, sinuous bond-beast controlled by the armoured blinders and reins attached to their heads, attacking with their fanged maws and lashing tails. The Akhelians who ride them wear heavy armour chest plates, with their arms bare and their legs covered in mail and cloth for mobility. They wield helsabres – vicious-looking serrated swords – and galv-shields, and feature bladed crests on their sinister closed-face helmets – there is an extra, specific helmet included for the leader, a Lochian Prince, with a specifically-shaped blade. There are options for a musician, who carries a conch shell and has an open faceplate; and a standard bearer, whose Fangmora Eel is equipped with a towering pennant. The kit comes with plenty of accessories used to decorate the Eels and the bases – nets, ropes, bottles and lamps are included.

This kit comes as 80 components, and is supplied with 3 Citadel 60x35mm Oval bases. The kit can optionally be used to assemble 3 Akhelian Morrsarr Guard.
Reviews