Middle-Earth Strategy Battle Game - Durbûrz & Grôblog, Goblin Kings of Moria (Online Exclusive 10% Off) PREORDER 21/05/22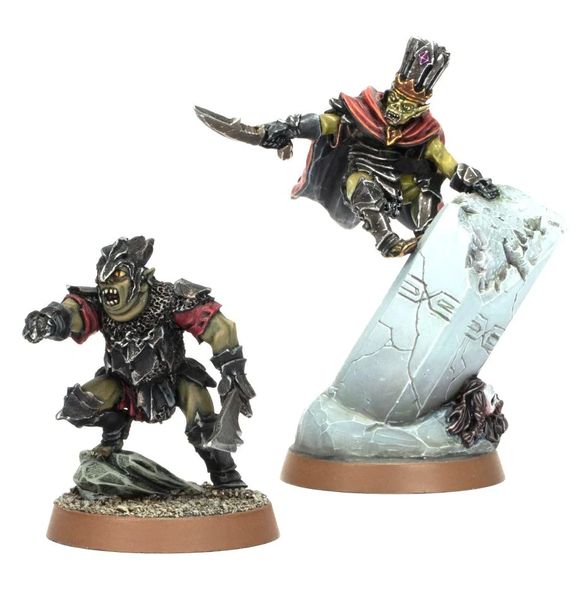 Middle-Earth Strategy Battle Game - Durbûrz & Grôblog, Goblin Kings of Moria (Online Exclusive 10% Off) PREORDER 21/05/22
Beneath the peaks of The Misty Mountains lie many Goblin kingdoms. The greatest of these is undoubtedly that of the former Dwarf stronghold of Moria, ruled over by the tyrannical Durbûrz. The largest and most brutal Goblin in Moria, Durbûrz has risen up the ranks to become king, and any that have dared to challenge his rule have been swiftly and callously dispatched. Durbûrz rules Moria as a tyrant, and instills great fear in those that follow him.
Following his discovery of a few small shards of Mithril, Grôblog has found his status to be vastly improved. Having fashioned these into a crown of sorts, Grôblog has since lied, cheated, stolen and stabbed his way to glory. His followers exhibit a fanatical devotion to Grôblog, showing a viciousness not seen by the followers of other Goblin 'lords'. Whether this is down to an enchantment upon Grôblog's crown, or some darker power, remains unknown.
This set contains two named Goblin Heroes for use in Moria armies. Durbûrz rules his Goblin hordes with an iron fist, whilst Grôblog stokes up his frenzied believers with a web of careful lies. The kit comprises three metal components to assemble one Durbûrz and three resin components to assemble one Grôblog, and is supplied with 2x Citadel 25mm Round Bases. Rules for these miniatures can be found in Armies of The Lord of the Rings™.
This kit is supplied unpainted and requires assembly – we recommend using Citadel paints.
Reviews