*Sector Mechanicus Ferratonic Incinerator (Online Exclusive) 10% Off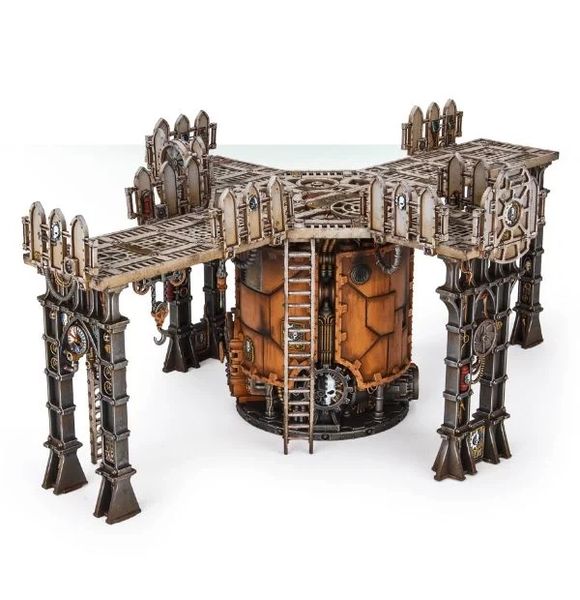 *Sector Mechanicus Ferratonic Incinerator (Online Exclusive) 10% Off
An incredibly detailed, striking scenery set, the Ferratonic Incinerator is a modular plastic kit compatible with the entire Sector Mechanicus range – detailed, configurable scenery that will help you play games on a multi-level environment!

Made up of a cylindrical structure – the Incinerator itself – with a set of 4 industrial walkways and a central platform, the Ferratonic Incinerator provides an excellent, massively configurable platform for your miniatures to battle over. The Incinerator, covered in detailed pipework, valves and Mechanicus symbols, can be used as a central pillar with the walkways and their sidewalls clipped in place wherever you like using the plug-in holes. Included are 4 ladders and a set of legs – the walkways can be constructed above each other, and used to connect multiple Sector Mechanicus scenery pieces together. 3 different small cranes and winches are in the kit, and every single piece is replete with details, from information displays and pressure control valves to vents, fans and Adeptus Mechanicus maker's plates. Rules are included for using this scenery piece in games of Warhammer 40,000.

This kit contains 4 frames of plastic components – one featuring the Incinerator cylinder, one containing walkways, one filled with supporting legs and one filled with platforms – and is compatible with every other kit in the Sector Mechanicus scenery range, meaning massive, multi-level labyrinthine structures can be built for your battle to be fought on. They can even be combined with the Haemotrope Reactor, Promethium Relay Pipes and Void Shield Generator. Your imagination is the only limit – no two gaming tables ever need look the same!
Reviews