*Death Guard: Plague Marine Reinforcements (Online Exclusive) 10% Off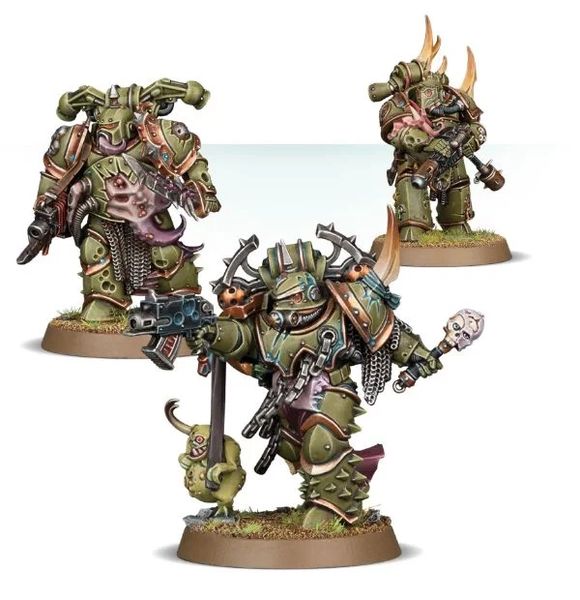 *Death Guard: Plague Marine Reinforcements (Online Exclusive) 10% Off
Of all the armies that seek to conquer the stars in the 41st Millennium, the Death Guard are truly the foulest and most corrupt. Made monstrous by their patron god Nurgle – lord of plagues and grandfather of disease – they are decay and entropy made manifest, living icons of hopelessness and despair.


This box set contains 3 plastic Plague Marines, which can be used as alternative models in any Plague Marine squad:

Blight Stalker – a trench warfare expert, resplendent in a sinister gasmask – he is armed with a bolter and blight grenade (featuring a skull), and is accompanied by a nurgling carrying a disease-coated stick – it's probably best not to dwell on where that stick has been…

Dipteron – evoking the classic Death Guard motif of mutation and corruption, this model is covered in growths and tentacles, and wields a meltagun and blight grenade. He features extra meltagun nozzles on his back, showing his commitment to the long war.

Corpulux – bloated, diseased and in an advanced state of disrepair, his armour is bursting with decay, held together by patches of chain mail. He carries a plague knife and a blight bomb – again, this bomb is made out of an unfortunate victim's head…

These models are supplied as 15 plastic components, with 3 Citadel 32mm Round bases.
Reviews