*Imperial Knight Crusader 20% Off (Canis Rex kit)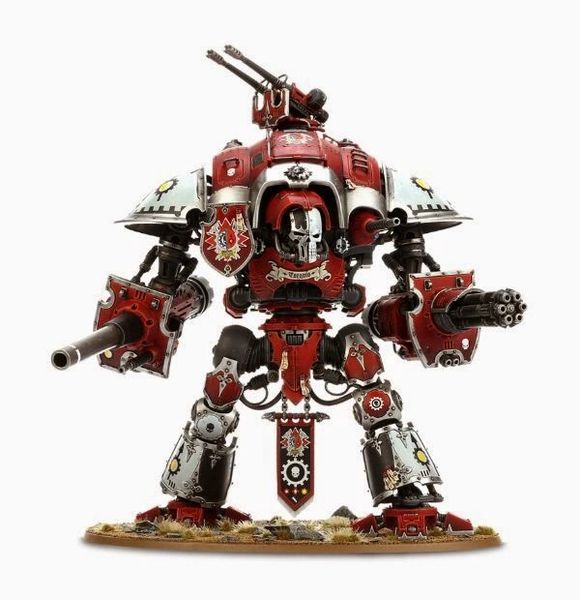 *Imperial Knight Crusader 20% Off (Canis Rex kit)
Imperial Knight Crusader 20% Off
Carrying more firepower than a tank squadron, the Imperial Knight Crusader strides into battle with the confidence two main guns will give you. Capable of smashing holes in even the hardiest defence line, the Knight Crusader offers support to its close-range brethren, standing further back and unleashing scathing torrents of firepower to obliterate threats and terrify the enemy.

This multi-part plastic kit contains the component necessary to build an Imperial Knight Crusader. Armed with an avenger gatling cannon, thermal cannon and rapid-fire battlecannon, this is a shining example of Imperial Knight might – everything about the model is imposing, from the aggressive faceplate to the brutally industrial-looking exposed hydraulics system that power its assaults. Included in the kit are 4 frames of plastic components, broken down as follows:

- A frame of Imperial Knight carapace components,including the carapace itself, engine block assembly, shoulder pads, shoulder joints, 2 sets of carapace heraldry and a heavy stubber;
- A frame of Imperial Knight leg components, including the leg and feet assemblies, greaves, waist assembly, chestplates, 2 faceplates, a pennant, tilting plate and armour plates for the knees and groin;
- A frame of Imperial Knight weapons, including a thermal cannon, rapid-fire battlecannon, heavy stubber, 2 alternate faceplates, and torso assembly;
- An Imperial Knight Warden frame, including a thunderstrike gauntlet, avenger gatling cannon, carapace mounted twin icarus autocannon, carapace mounted missile launcher with the choice of either ironstorm, shieldbreaker, or stormspear missile pods, meltagun, 3 alternate faceplates, and tilting plate.

Use those frames to build the basic Imperial Knight structure, add an avenger gatling cannon, thermal cannon and rapid-fire battlecannon and you have an Imperial Knight Crusader.

This kit can be built as either a Knight Warden, Paladin, Errant, Gallant, or Crusader – the weapons and faceplates are interchangeable and can be used as spares for any other Knight kits you might have.

The Knight Crusaderis supplied as 250 components, and includes a Citadel 170mm Oval base, and a transfer sheet featuring heraldry for Imperial Knights.
Reviews