Graphic Novel- Vertigo - Slash & Burn (2015-2016) Vol. 1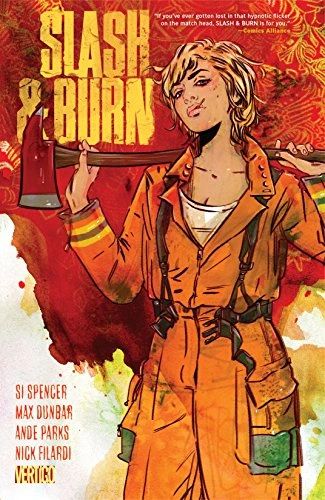 Graphic Novel- Vertigo - Slash & Burn (2015-2016) Vol. 1
Graphic Novel- Vertigo - Slash & Burn (2015-2016) Vol. 1
WHERE THERE'S SMOKE...

Rosheen Hayes likes it hot. As one of the only female firefighters in her small South Dakota town, she gets up close and personal with the flames every day. But there's something else burning deep inside of her. Something bright and forbidden.

Rosheen doesn't just fight fires-she starts them as well.

As a child, Rosheen was part of a clandestine club of young firebugs-orphans thrown together by chance and fused together one matchstick at a time. She thought that she'd left that all behind, but then a routine call turns up a smoking body with links to her own shadowy past. Before long, more bodies are piling up-and, like a moth to a flame, Rosheen is drawn inexorably back into her own arousing addiction.

Writer Si Spencer and artists Max Dunbar and Ande Parks turn up the heat in SLASH & BURN, a scorchingly original crime thriller collecting issues #1-6 of the Vertigo miniseries.
Reviews