Funko Marvel Collector Corps Box - Deadpool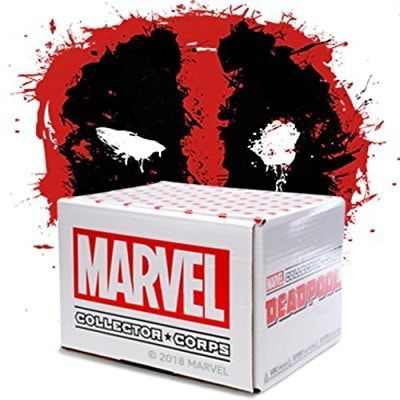 Funko Marvel Collector Corps Box - Deadpool
Funko Marvel Collector Corps Box - Deadpool
No size requirement as no T-shirt included in this box this time.



Upcoming box - everything Deadpool!




Can't get enough Deadpool this summer? We've got you covered with Funko's Marvel Collector Corps box that's only available here. July's box will feature everything Deadpool, including an exclusive Funko Pop figure and other Deadpool collectibles you won't find anyplace else. Quantities are limited.





Fun in every box:




Box contents change with every theme and may not include a t-shirt

4 to 7 collectibles in every box, including an exclusive vinyl Pop!

The universe of Marvel delivered to your door

Thoughtfully curated boxes by fans for fans

Limited to 3 boxes per customer


Released in USA on July 28th approx and will take 2-8 weeks to get to the UK and sent to you, depending on customs etc.
Customs free as we pay all charges. Postage included (UK only).




IF BUYING FROM OUTSIDE THE UK, YOU WILL RECEIVE AN INVOICE AFTER THE SALE WITH THE COST OF THE EXTRA POSTAGE. WE DO NOT DO CANCELLATIONS OR RETURNS ON THESE BOXES AS THEY ARE ORDERED IN THE SIZE YOU REQUIRE.
TERMS & CONDITIONS
Refunds are not accepted on listed damaged or sale items, or for those which received minor damage in the mail.
Refunds are accepted on everything else, but will need to be returned at buyers cost and we will not be able to refund the initial postage cost.
Special order items such as the Dc Legion of collectors, Marvel collectors corps and Smugglers Bounty boxes can not be returned as these were ordered especially for you, in the size you asked for. We also can not do anything about damaged boxes that might arrive in these boxes, Funko themselves will not replace damaged boxes, so im afraid we can not.
Returns & cancellations not accepted on these items.