Funko Disney Treasures Lilo & Stitch Box Hot Topic Exclusive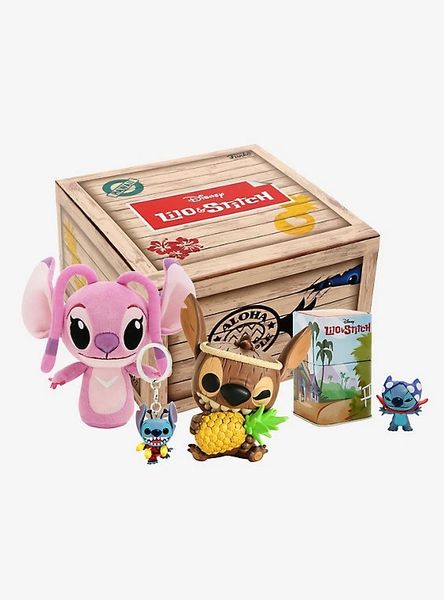 Funko Disney Treasures Lilo & Stitch Box Hot Topic Exclusive
Funko Disney Treasures Lilo & Stitch Box Hot Topic Exclusive
Our new and exclusive Lilo & Stitch themed Disney Treasures box is filled with Funko Disney goodness imported from space and Hawaii! Presented in a cardboard box that looks just like a packing crate stamped with Hawaiian travelling-style stamps, and featuring a pineapple-scented Tiki Stitch Pop!, Stitch 626 Pocket Pop!, Superhero Stitch Mystery Mini with tin and Angel plush.

Only available at Hot Topic!
Final sale. No returns or exchanges.

Whilst we take every care in shipping items in double boxes, and bubble wrap on pops, and single strong  boxes with bubble wrap on lower priced items , damages can sometimes happen in the mail. Due to this fact we can no longer offer refunds on damages in the mail. We are always happy to provide pictures of a pop before purchase. Boxes may come with minor bumps & dents, this is how they are provided. As the boxes are very fragile we will not accept returns for this. If you require a mint box, please message us and we will do our best to provide one. Any major box defects will be listed as a separate sale. We will also not accept returns for minor paint defects as these are mass produced items and will never be 100% perfect. By Purchasing an item from us you agree to these terms and conditions
Reviews