D&D RPG - Dungeon Tiles Reincarnated - Wilderness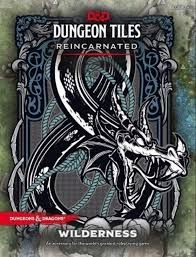 D&D RPG - Dungeon Tiles Reincarnated - Wilderness
D&D RPG - Dungeon Tiles Reincarnated - Wilderness
Breathe life into your tabletop game with these full color dungeon tiles. Infinitely expandable and easy to set up, these dungeon tiles allow you to create the adventures you want to play.
Tiles to make fantastic wilderness maps: contains 16 durable, double-sided, fully illustrated tile sheets, featuring grasslands, ruins, sandy beaches, and other terrain elements that Dungeon Masters can use to build exciting encounters.
A role-playing game (RPG) is a game in which players assume the roles of characters in a fictional setting. Players take responsibility for acting out these roles within a narrative, either through literal acting, or through a process of structured decision-making or character development. Actions taken within many games succeed or fail according to a formal system of rules and guidelines The Game Master (GM) describes the game world and its inhabitants. The other players describe the intended actions of their characters, and the GM describes the outcomes. Some outcomes are determined by the game system, and some are chosen by the GM.
Reviews