Comic - DC MARTIAN MANHUNTER #3 Dec 2006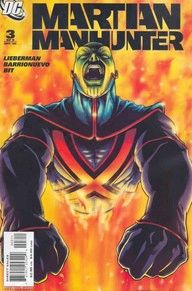 Comic - DC MARTIAN MANHUNTER #3 Dec 2006
Comic -  DC MARTIAN MANHUNTER #3 Dec 2006
The truths that Martian Manhunter has lived his life by are being destroyed! As he discovers the truth behind the lies, everything about his life will change — and when the humans responsible for the deceit try to reclaim their secrets from the Martian Manhunter, they will discover a fury the world has never seen before.
All comics are in Good/Very Good/Near Mint condition. However we understand everyone's perception of condition is different. If you would like more photos of a particular comic, please don't hesitate to ask.

Inserted in Comic Bag with Board for Safety.
Reviews