*Citadel Knife (Restricted to click and collect only) 10% Off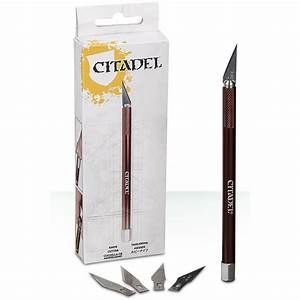 *Citadel Knife (Restricted to click and collect only) 10% Off
Citadel Knife
The Pop Shop Elgin takes selling knives to minors seriously, and therefore does not make these knives available to order online. If you wish to purchase this product then please go to your nearest store or local stockist, or use the store pickup option.  Please be prepared to prove your age. If ordered as part of an order not set for store pickup, the item will be refunded and not sent with the rest of the order.

Used to remove small piece of plastic or resin left over when clipping components from their sprues and to cut transfers from their sheets, the Citadel Knife is an invaluable tool in the arsenal of every hobbyist. Made from steel and aluminium, it's designed with safety in mind – shaped so it won't roll across the table.

6 blades are supplied, and are easy to swap out; just unscrew the handle. The Citadel Knife is compatible with the most common hobby knife blades.
Reviews