Blood Bowl Amazon Team 10% Off Pre-order (Online Exclusive) - Made to order and delivered withn 30 working days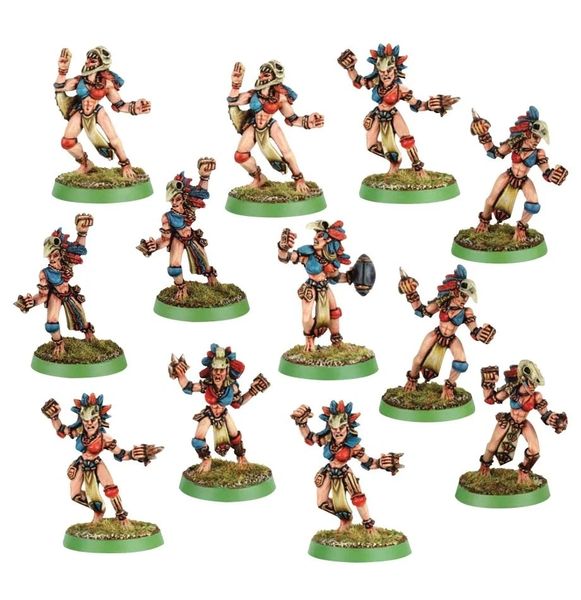 Blood Bowl Amazon Team 10% Off Pre-order (Online Exclusive) - Made to order and delivered withn 30 working days
The Amazons of Lustria are an enigma, and several contradictory stories of their origins exist. One tells that long ago, driven by a desire for adventure, a group of Norse Valkyries set sail for distant shores. After a journey worthy of a saga in its own right, they founded a colony deep within the basin of a great river that wound its way through a massive rainforest. Cut off from the outside world, a new warrior society sprung up, borrowing customs from the native Lizardmen. Another legend claims that the Amazons were created by ancient, god-like beings to serve as the handmaidens of the gods. Perhaps both legends contain something of the truth, but either way, Amazons are natural athletes, and many possess the combination of agility and violence that marks them out as potential legends of the sport.

This Tier 1 team hails from the Lustrian Superleague, giving them access to an impressive roster of Star Players. Their rules are fully compatible with the latest edition of Blood Bowl, and the classic metal models are a treat for anyone with a hankering for nostalgia. Slippery and agile, these fierce warrior women will run circles around the competition, and they pack quite a punch when they're ready to throw down. Their distinctive skull-and-feather headdresses give them a style unlike anything else in the game, before or since.

This classic set includes the following players, all of which are metal and come supplied with a Citadel 25mm Round Slotta Base:

- 6x Tribal Linewomen
- 1x Eagle Warrior Thrower
- 2x Piranha Warrior Catchers
- 3x Koka Kalim Blitzers

The rules for Amazon Blood Bowl Teams can be found in the Teams of Legend section of the Warhammer Community Downloads page.

These models are available until 6pm BST on the 17th of October 2021 via Made to Order. Once this period is over, your order will be cast and shipped within 30 days. These miniatures are supplied unpainted and require assembly – we recommend using Citadel paints.
Reviews