*Adeptus Titanicus: Reaver Battle Titan with Melta Cannon and Chainfist (15% Off)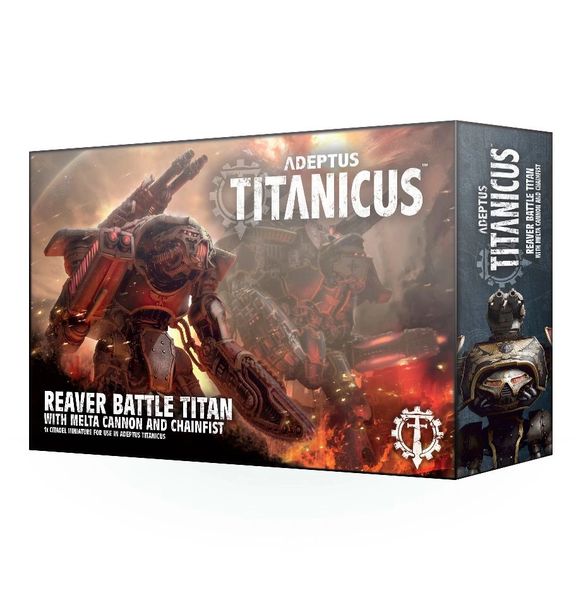 *Adeptus Titanicus: Reaver Battle Titan with Melta Cannon and Chainfist (15% Off)
A gargantuan war machine, the Reaver Titan is one of the most common and destructive classes of Battle Titan. Armed with devastating weapons and able to crush enemies under its tread by the score, the ground shakes as the Reaver advances and the enemy is left with a choice: flee or die. Reavers are the heart of the Titan Legions, holding the line or leading the charge as their Princeps demand.

The Reaver Titan forms the mainstay of most Titan Legions, and is a key component of many Adeptus Titanicus maniples. Swifter than its Warlord cousins and more durable than the smaller Warhounds, with a wide range of devastating weaponry, the Reaver Titan is the perfect addition to any battlegroup.

This multipart plastic kit contains the components necessary to assemble a Reaver Battle Titan for use in games of Adeptus Titanicus. Particularly aggressive-looking, even compared to its contemporaries, this highly-detailed Titan is easily recognised by its flattened face profile and angular carapace.

It comes armed with several weapon options – a melta cannon and volcano cannon are available, alongside a chainfist. Above the carapace – of which 2 are included, 1 blank – resides a turbo laser destructor, either side of which are the shoulder pads (3 sets are included – 1 set loyalist, 1 set traitor and 1 set blank). Further modelling options include the knee pads – 2 of these are blank, with 1 depicting the symbol of the Opus Titanicus.

This kit is supplied with a Citadel 105x70mm Oval base along with a decal sheet – this features heraldry for the following Legions: Gryphonicus, Fureans, Astorium, Atarus, and Mortis.
Reviews